Cool Amazon Affiliate Tools Developer Pack!
Discover These 6 New Incredible Amazon Affiliate Tools That Will Significantly Improve Your Sites SEO And Boost Your Amazon Commissions!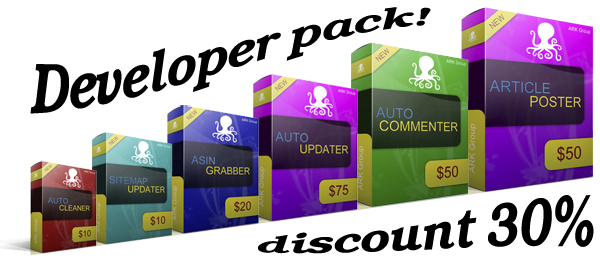 1. Amazon ASIN Grabber 2.0 is a powerful tool that can easily get a list of ASINs in any Amazon category with any kind of sorting that you like! Read More…
2. Auto Commenter was created especially for Zon Builder and Auto Updater wordpress plugins and it`s one of the most expected tools created in 2012! Auto Commenter is a really cool script, that will significantly improve your site SEO! Read More…
3. Auto Sitemap Updater is a small, but very useful tool for all sites that use any kind of robots for auto posting. Read More…
4. Auto Cleaner was created especially for Zon Builder wordpress plugin because of numerous requests from it`s users. Auto Cleaner is a small, but very useful tool for those who use Zon Builder! Read More…
5. Article Poster is a new WordPress plugin that will post hundreds articles to your sites and associated with them social accounts. Our plugin collects articles according to your keywords, rewrites them through selected Rewrite Service and publishes to your sites automatically. Read More…
6. Auto Updater is a fresh new revolutionary plugin that combines the whole our experience in one place! Read More…
SPECIAL OFFER!
The total value of all 6 Amazon Affiliate Tools is $240, BUT only now you can get them all only for $160! Get your 30% discount right now!