Great ET InReview theme!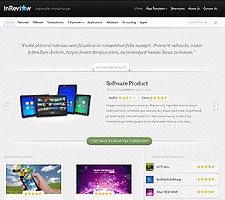 Make it simple to create and maintain a great site with Outstanding InReview Theme now!
InReview is an advanced Review Theme that allows you to transform your WordPress blog into a fully-functional ratings website. The theme makes rating products easy with our custom options and integrated user-review system. The theme also includes affiliate integrated and custom widgets to help you increase conversions.
Theme installation, configuration and adaptation is a hard work, but I`ve done it for you!
The short list of modifications I`ve done:
1. CSS modifications.
2. Theme php code modification and optimization.
3. Some WP Zon Builder modifications.
Frequently asked questions:
1. Does this theme fully automatic?
InReview theme have been perfectly adapted and optimized to work with WP Zon Builder! Manual Posting supported as well!
2. Can I customise the theme background color, logo, change images etc?
Theme options panel comes with all Elegant Themes, allowing you to easily control your website without ever touching a line of code! Additional features allow you to toggle on and off features, adjust your layout, manage advertisements, control colors, optimize for search engines and more! ePanel integrates with the WordPress Dashboard and will appear automatically when you activate any Elegant Theme!
3. Can I add adsense or clickbank etc?
Yes! InReview theme have a fully customisable sidebar just like a regular blog. You can add whatever you like.