Amazon ASIN Grabber!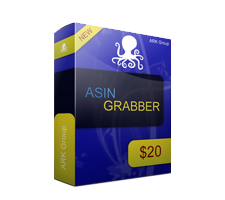 Amazon ASIN Grabber is a powerful tool that can easily get a list of ASINs in any Amazon category with any kind of sorting that you like!
As you know a keyword search works not precisely. Search by browse nodes is not as great as you expected too. So if you want to get some exact items with special conditions you must gather their ASINs manually and that will take a lot of time.
Good news! The solution has been found!
With our great tool you can easily get a list of any amount of ASINs in few minutes!
Let's say you want rings with such conditions:
a) Rating: 4 Stars or More;
b) Cost: $25-$50;
c) Material type: Gemstones;
d) Discount: 70% Off or More.
On Amazon it will look like this: Jewelry › Rings › 4 Stars & Up › $25 to $50 › Gemstones › 70% Off or More
There are 450+ results so it will take up to few hours to gather all ASINs. But with our tool you can gather them in 3 clicks! You will get a list of ASINs for all 450+ results in 30 seconds! A list will be sorted both in Amazon order and inverted order (inverted list usually used for different Amazon Plugins like WP Zon Builder, etc).
Main ASIN Grabber Benefits
a) Speed. 2000 ASINs can be gathered in 5 minutes!
b) Any Kind of Sorting. You don`t limited in filters. Do you want to get only 4+ rating, $100+ price, some specific manufacturer, size, color, material, style? No Problem! You can apply any filter that Amazon has! Keywords supported as well!
c) TOP 100 Support. Do you want to get all Top Rated, Best Sellers, Hot New Releases, Most Wished For, Gift Ideas products in your niche? No Problem! 3 minutes and you are done!
d) Additional Information About Products. Do you want to get not only ASINs, but some additional information like Title, Description, Features, List Price, Lowest New Price, Rating, Amount of Reviews, Reviews URL, Detail Page URL, Image URL, Manufacturer, Availability, Super Saver Shipping? No Problem! Select what information do you want and get it!
e) Strict Mode. All we know that Amazon API not always work fine
. Up to 30% of information about your products can be lost because of Amazon API bugs (There was an error connecting to the Amazon web service, or no results were found for your query). But, with our Strict Mode you may not worry about it! ASIN Grabber will force Amazon to give you a full information about all your products! You will never find such feature in other tools!
f) CSV Export. Save your results in CSV file and import it in Excel, MySql or any other program.
PLEASE NOTE: d, e, f features available only in ASIN Grabber v2.0.
Check it out now!